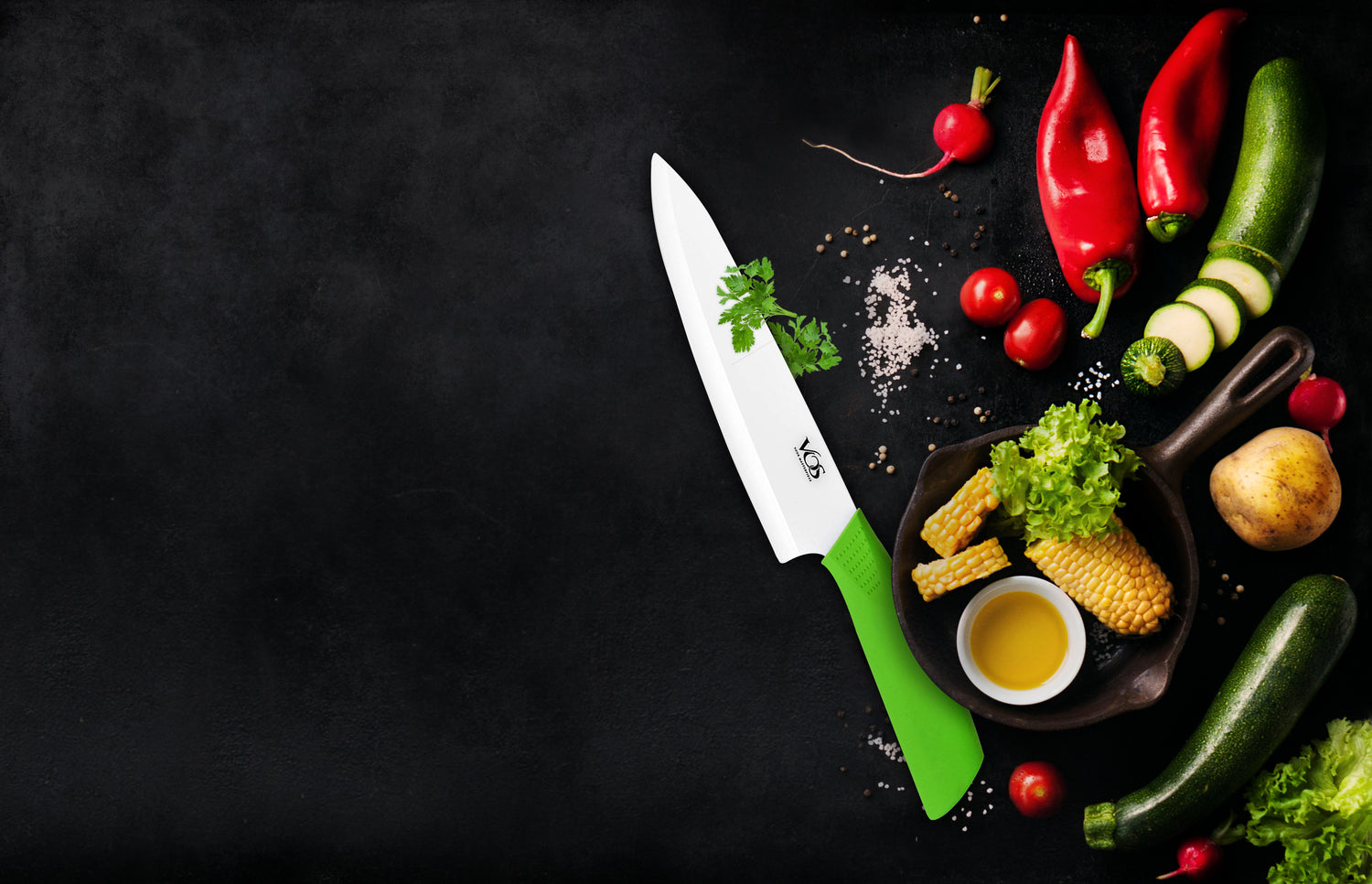 SLICE TO PERFECTION WITH VOS
Vos ceramic knives deliver ultra-sharp blades with superior functionality and precision for coring, slicing, cutting, chopping, trimming, and peeling.
SHOP
CERAMIC KNIFE SET WITH BLOCK
WHY CHOOSE VOS CERAMIC KNIVES?
Celebrating our 10th year of improving the quality of food preparation around the world. Because no kitchen is complete without VOS ceramic knives.
 Since 2013, our award-winning VOS ceramic knives are the choice of amateur cooks and professional chefs who know you should never compromise on the taste of your food or the quality of its preparation. Experience how our commitment to quality has made VOS Knives a trusted global kitchen brand.
CERAMIC KNIVES ADVANTAGES
PERFORMANCE

Our ultra-sharp blades provide superior functionality and greater precision for cutting fruit, chopping vegetables, and making sushi. Enjoy the skillful ease it provides for removing delicate skins or rinds, cutting thin strips for garnish, and other coring, slicing, trimming, and peeling activities.

ENDURANCE

Our long-lasting ceramic blades sustain their original sharpness up to 15 times longer than their steel counterparts. Our high-quality craftsmanship helps ensure the longevity of our paring knives for versatile kitchen tasks.

DESIGN

Cutting is now faster and easier for people of all ages. Vos ceramic knives are more lightweight than steel, usually half the weight of metal-based knives, offering greater ease of use for even the most difficult cutting tasks. Our expertly designed ergonomic handles offer grip control and comfort.

HEALTHY

Vos blades do not rust, corrode, or absorb any food elements, making them safer

to use and easier to clean. Being non-porous, our ceramic blades help protect your food from bacteria. They can be easily cleaned with a quick rinse and wiped with a clean kitchen towel.