Regular price
$69.99 USD
Sale price
$54.99 USD
Unit price
per
Sale
Sold out
✔ CERAMIC KNIVES: Ceramic knives have become the top choice for many households. These are not just elegant, but they are also harder than stainless steel knives as they never corrode or rust. If you are looking for beautiful ceramic knives sets, then Vos Ceramic Knife Set is the perfect choice for you.

✔ KNIFE SET: Vos 4 Piece knife set; 1 x 6" Chefs Knife, 1 x 5" Utility Knife, 1 x 4" Paring Knife & 1 x 3" Multi-purpose Knife. Each ceramic knife comes with a black handle.

✔ ULTRA-SHARP: Ultra-sharp blades that last 10 times longer than steel. The ceramic blades are versatile and they are best to chop, cube, or cut easily. These kitchen knives are also good to cut meat.

✔ PERFECT GIFT IDEA: Our kitchen knife set comes with an elegant gift box, making this the perfect gift for all occasions.

✔ SATISFACTION GUARANTEED: Based on the confidence in the quality, our Ceramic Knife Set is protected by worry-free support. Customer satisfaction is our top priority.
Vos ceramic knife set is the essential knives to have in your home kitchen or professional kitchen. The knife set consists of a 6 inch Chef knife, 5 inch utility knife, 4 inch paring knife, and a 3 inch multi-purpose knife, all with black handles. The knife blade is zirconium oxide.
These ceramic blades are 10 times sharper than steel. These blades retain a great edge and are sharp. The blades are both sharp and versatile and they are best to chop, cube, or cut easily. These ceramic knives are good to slice veggies, fruits, boneless chicken, and cut meat. The knife set includes light handles that fit snugly and are more comfortable even in chopping lots of food. The blades avoid the metallic taste. Simply hand wash them after use.
 These ceramic knives kitchen are not recommended to use on bones or frozen foods. Also do not use it to open squash, coconuts, pumpkins or any fruit with a hard shell.
Our ceramic knife set comes with an elegant gift box, making this the perfect gift for all occasions like Christmas, Easter, Mother's Day, Father's Day, housewarming, anniversary, wedding, birthday, and many more.
Key Features:
Handles are light and snug fit.
Razor-sharp edges last longer.
Well-balanced knives and stable enough to make delicate cuts.
Very versatile and are best used for chopping, dicing and slicing
Advanced, ultra-sharp blades that last 10 times longer than steel.
High quality ceramic knives that avoid corrosion.
Customer satisfaction is our top priority and very important to us. So if you have any issue with our Vos Ceramic Knife Set then feels free to contact us. Our dedicated and professional team is always available for Customer support. We always offer 30 days no questions asked return/refund option to our clients.
Share
View full details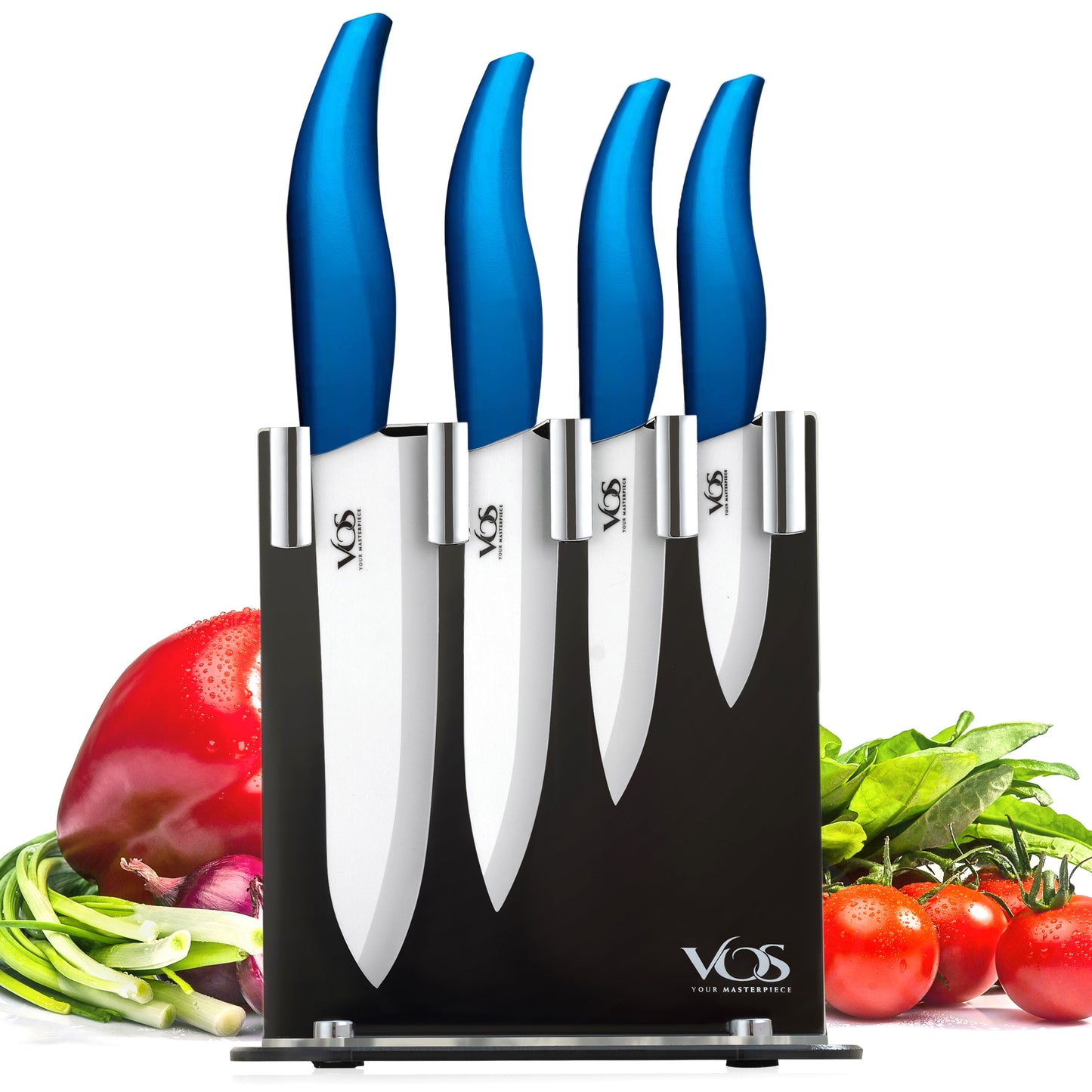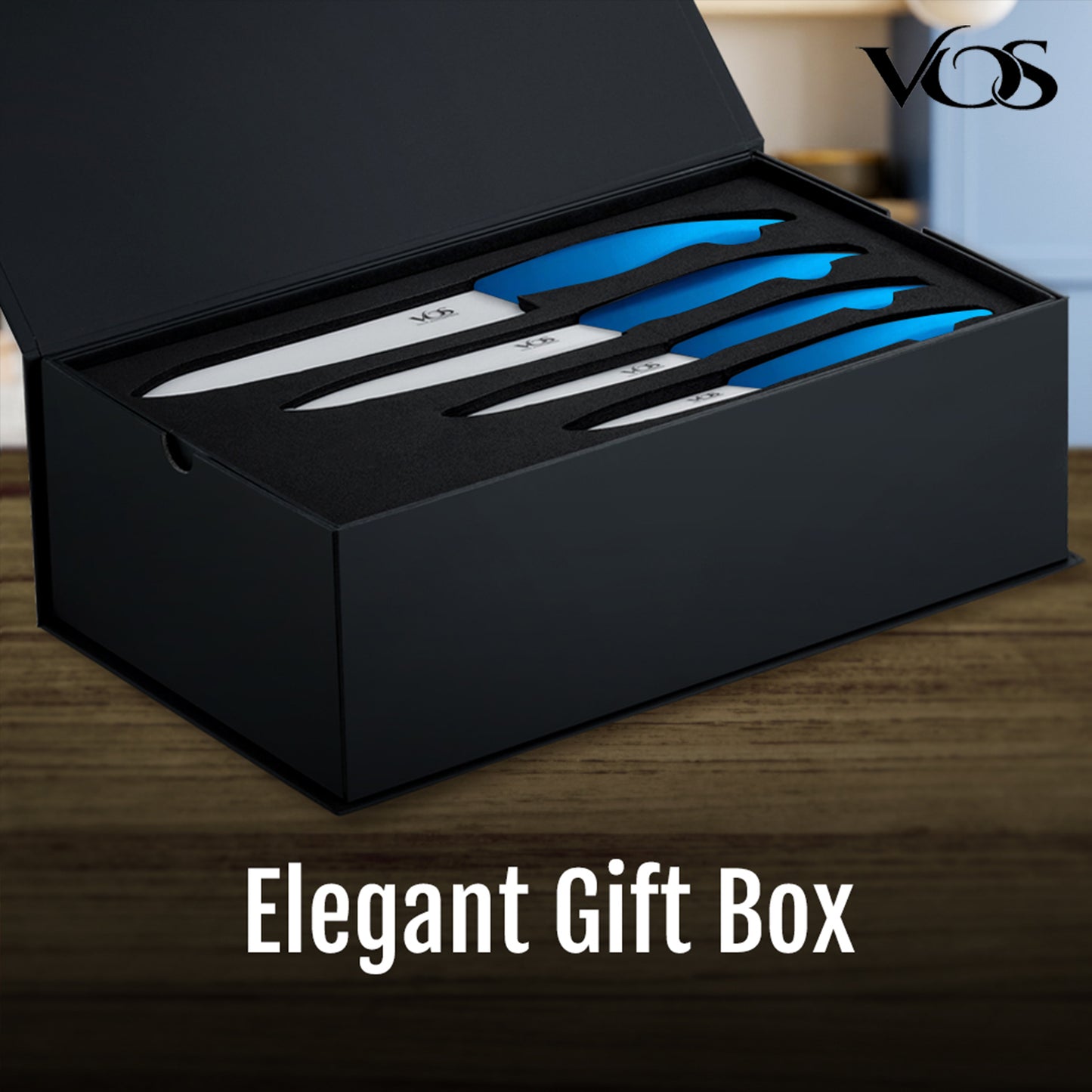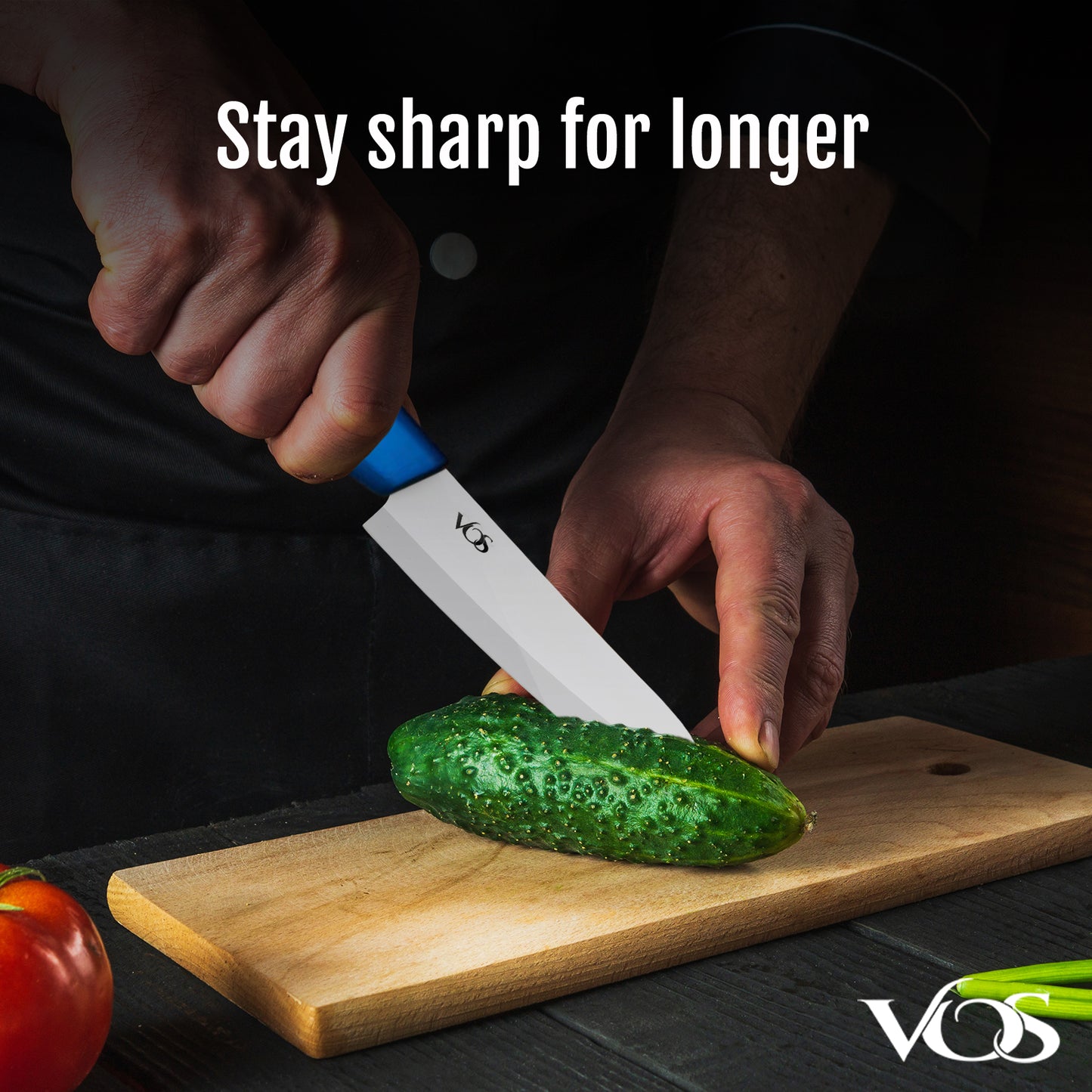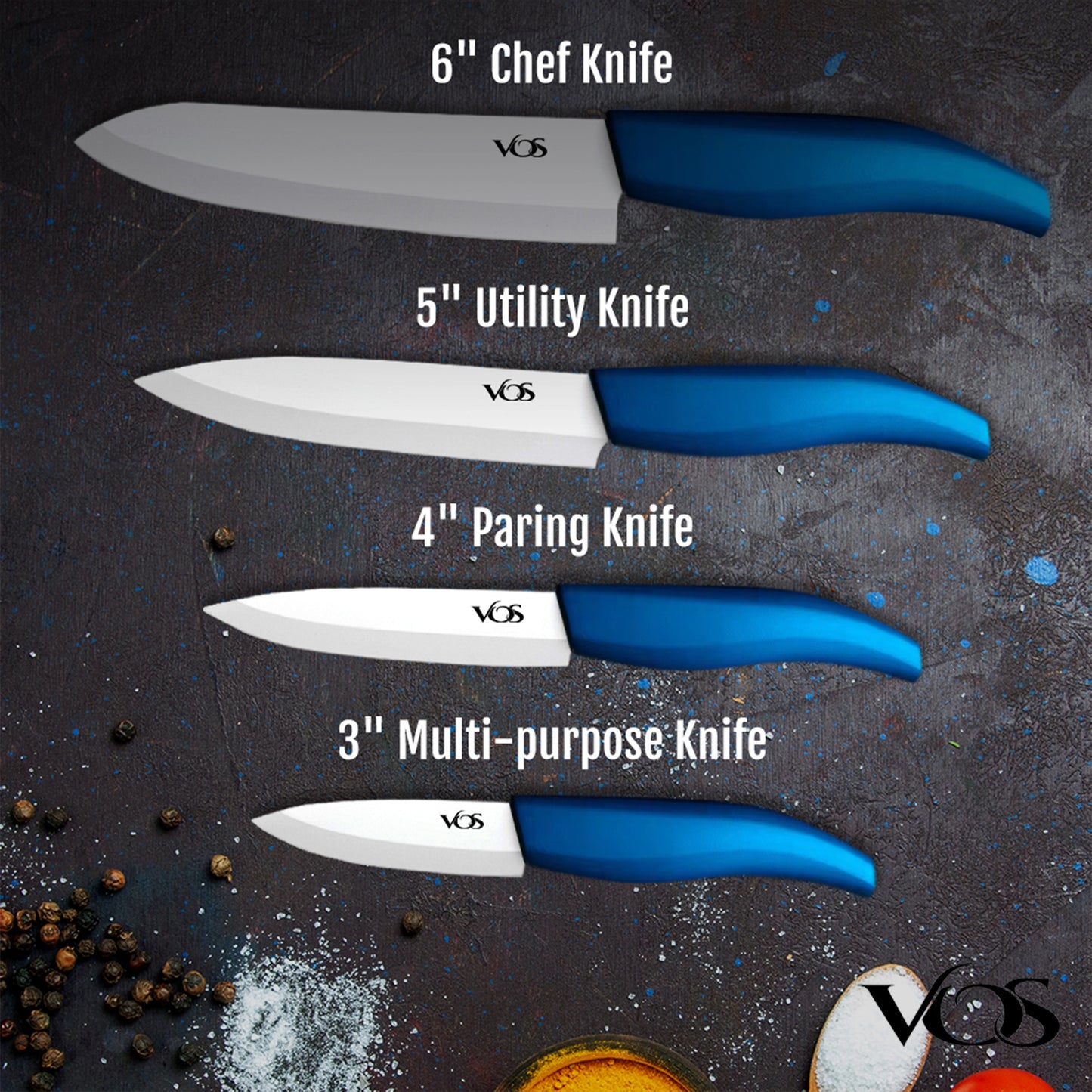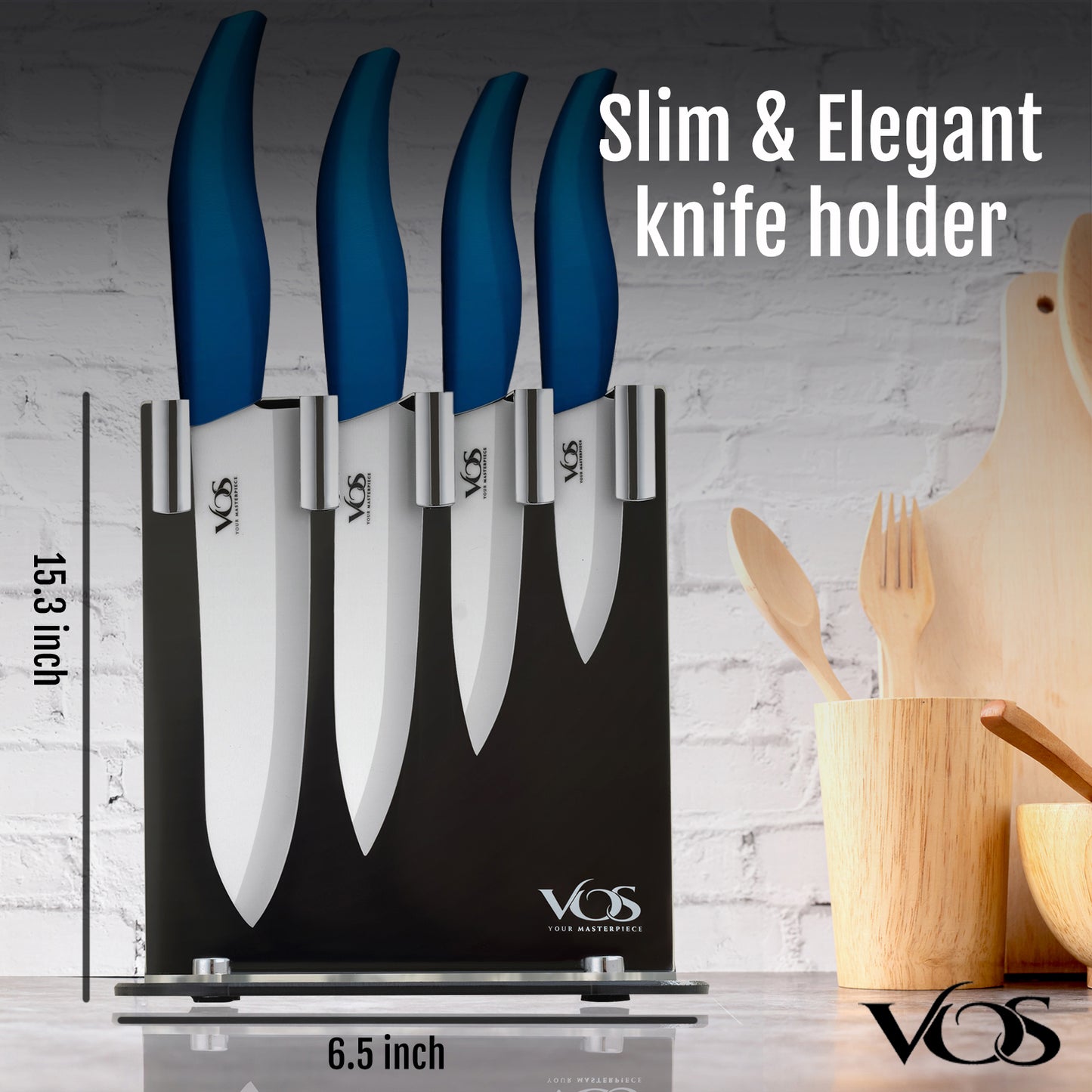 Nice sharp set!
Needed a new set of knives. This has four of the knives I use the most. Like that it comes in it's own knife holder. Looks great on the counter.
Great cutting edge, excellent display case.
This item came in a timely manner and was packaged well. It takes up very little room on the counter and has easy one-hand access to the knife that you need. The knives are sharp and easy to clean.
A must have knife.
Knife comes in a very nice gift box that protects it in shipment. The knife itself is very attractive and sharp. It is longer than I thought it would be, but works great. Could have done with a 6 inch blade, but you know how guys are, always wanting the biggest. I eat a raw vegan diet, so no bread in the standard since of the word, but it does a bang up job on soft ripe veggies and fruit, like tomatoes, that most knives would have trouble cutting instead of squashing. I like ceramic because of the non-reactive aspect of it compared to metal knives. But it is harder and more brittle, so a few changes in habits may be in order. Metal knives can be pressed sideways a bit because they are softer and will bend. So don't filé a fish or mango with these knives like you would a metal knife. It is very comfortable to use, grip is soft and fits well in my hand, it feels good. I would recommend to anyone. The price is very good as well. Other similar knives go for $40 or more.
Great Knives!
I had a ceramic paring knife from Vos and loved it. When I needed a new one I was just going to get another paring knife until I saw this set. They are really well made knives and ceramic is very sharp and cuts beautifully. The knife holder is very slim and takes up very little room on the counter.
Great Knives
These knives are very sharp
Collapsible content
SHIPPING

Shipping Options & Delivery Costs

All US orders will be shipped out via USPS First Class or similar, and the delivery time should take about 2-6 Days. 

Vos Ceramic Knives always offers FREE standard shipping on all orders - no minimums or exclusions!
TIPS

The Vos ceramic knives are dishwasher safe.

A word of caution: The ceramic blades are fragile and can easily chip or breakif you attempt to cut bone, frozen food or accidently drop the knife.
DETAILS

~ Excellence in performance

Our ultra-sharp blades provide superior functionality and greater precision for cutting fruit, chopping vegetables, and making sushi. Enjoy the skillful ease it provides for removing delicate skins or rinds, cutting thin strips for garnish, and other coring, slicing, trimming, and peeling activities.

~ Excellence in endurance

Our long-lasting ceramic blades sustain their original sharpness up to 15 times longer than their steel counterparts. Our high-quality craftsmanship helps ensure the longevity of our paring knives for versatile kitchen tasks.