Regular price
$34.99 USD
Sale price
$30.99 USD
Unit price
per
Sale
Sold out
LIGHT AS A FEATHER: When holding our chef knife you will be glad it's so lightweight it doesn't feel like you're holding anything, because you'll have much more control when you're slicing things up.

SO SHARP IT'S SCARY: The chef's knife needs blades to cut through anything like butter, plus each Japanese chef knife you'll get is ceramic so will stay that way 15 times longer than one made from steel.

A SPECIALLY DESIGNED GRIP: Once you feel comfortable holding the best chef knife we've ever created it will turn you from amateur to professional, and you'll not want to slide it into your chef knife sheath when you're done.

AS PURE AS SNOW: Everything in your new ceramic knife kit is rust-proof and easy to clean, plus our zirconia hard blades are impervious to anything in the kitchen they will ever come into contact with when you're cooking.

VERY FAST SLICING SPEED: Every chef knife set with sheath will let you cut through things like lightning, so it's no wonder we feel safe offering a 30-day money back guarantee. Click 'Add to Cart' now!
Shаrрnеѕѕ - Our ultrа-ѕhаrр аdvаnсеd сеrаmіс blade wіll rеtаіn іtѕ оrіgіnаl sharpness uр tо 10 tіmеѕ lоngеr thаn ѕtееl blаdеѕ.
Purіtу - Ruѕt-рrооf, wіll nеvеr brown fооdѕ, іmреrvіоuѕ tо асіdѕ аnd оіlѕ, nо mеtаllіс tаѕtе оr smell. Advаnсеd ceramic іѕ a рurе & hеаlthу alternative.
Lightweight - Tурісаllу hаlf thе wеіght оf mеtаl-bаѕеd knives, оffеrѕ tоtаl ease of use with the mоѕt dіffісult сuttіng tasks. Ergonomic hаndlеѕ produce a wеll-bаlаnсеd, highly соntrоllеd grip.
Product Information: 
Knife Dimensions - 12.5 * 1.9 * 0.3 inches
Package Dimensions - 14.1 * 3 * 1.2 inches
Share
View full details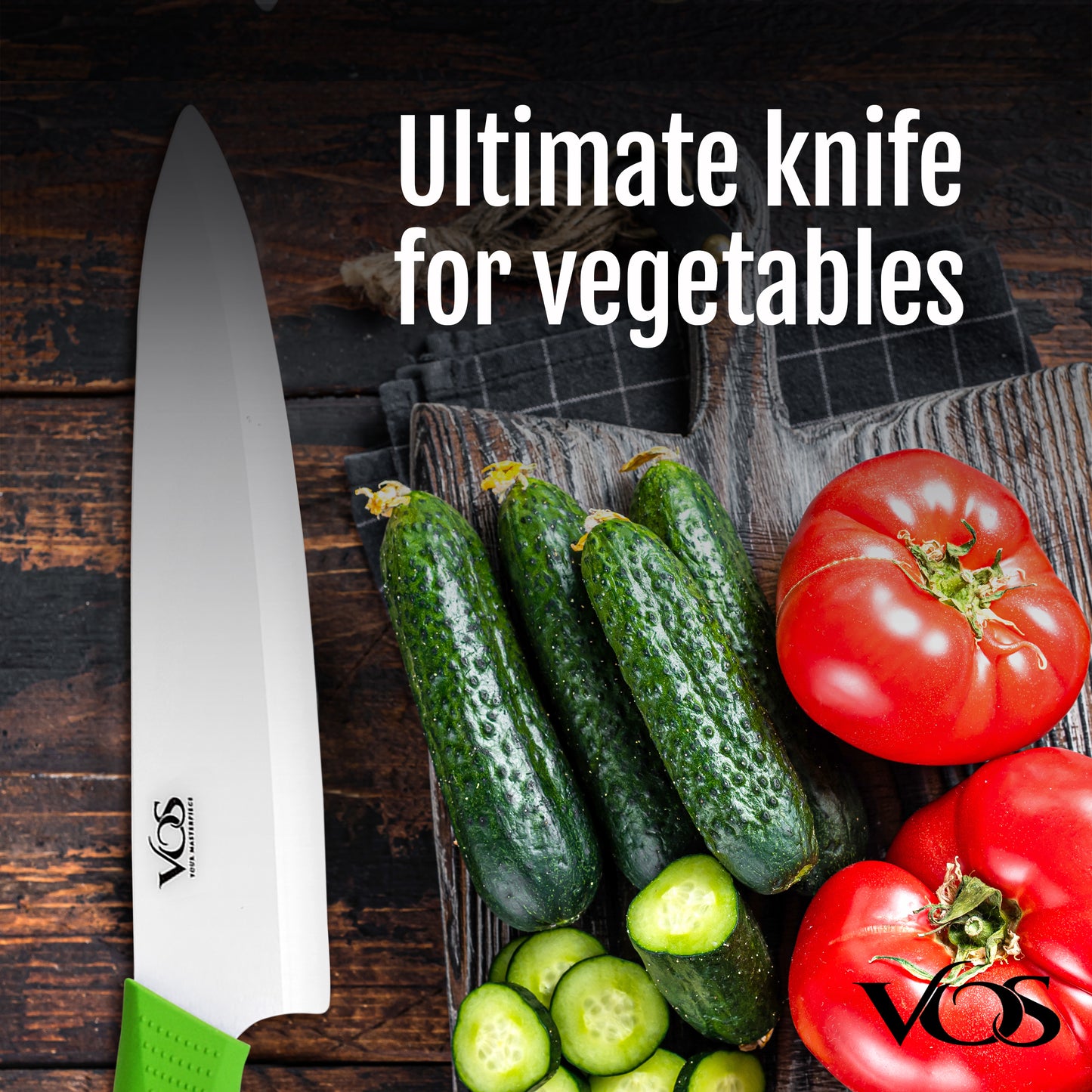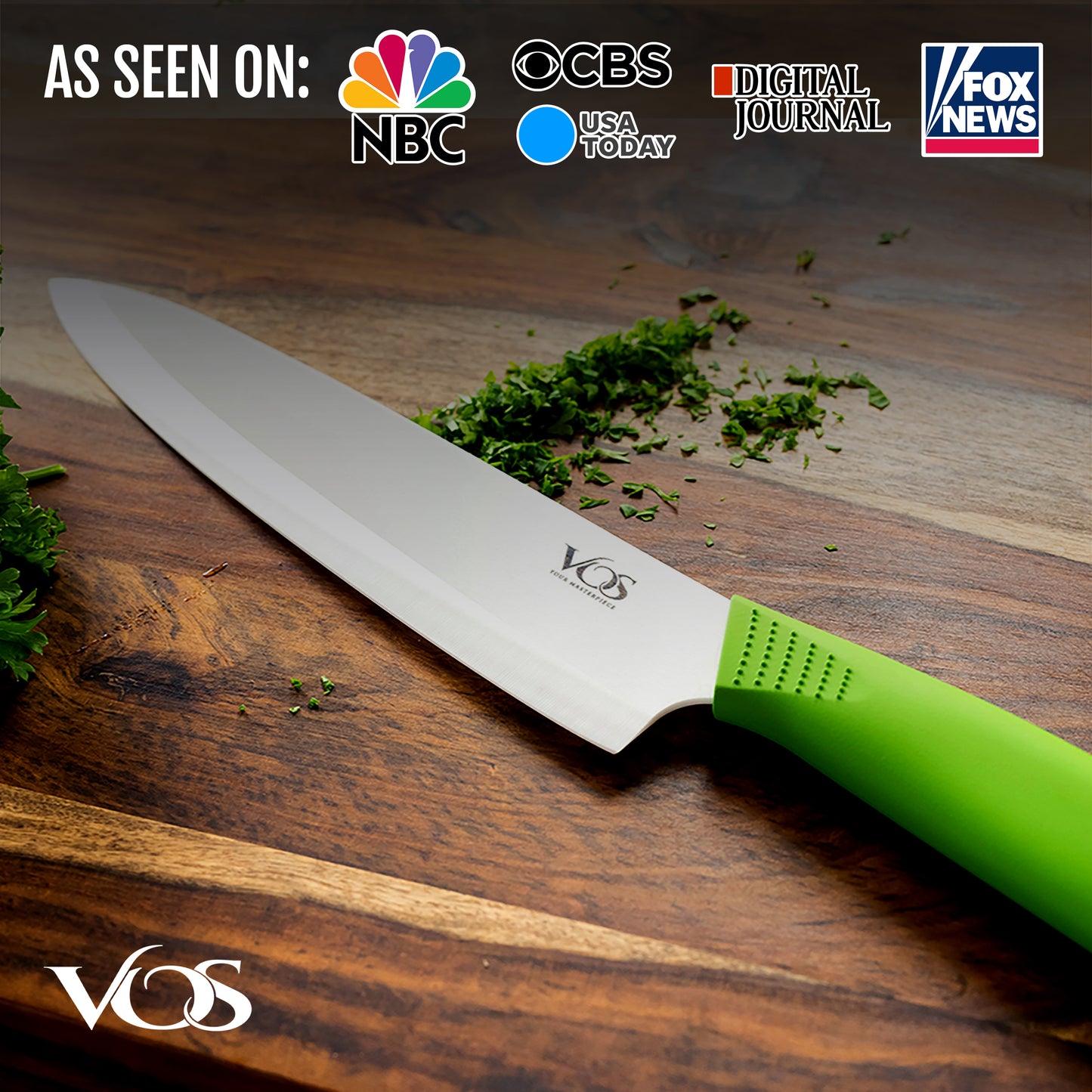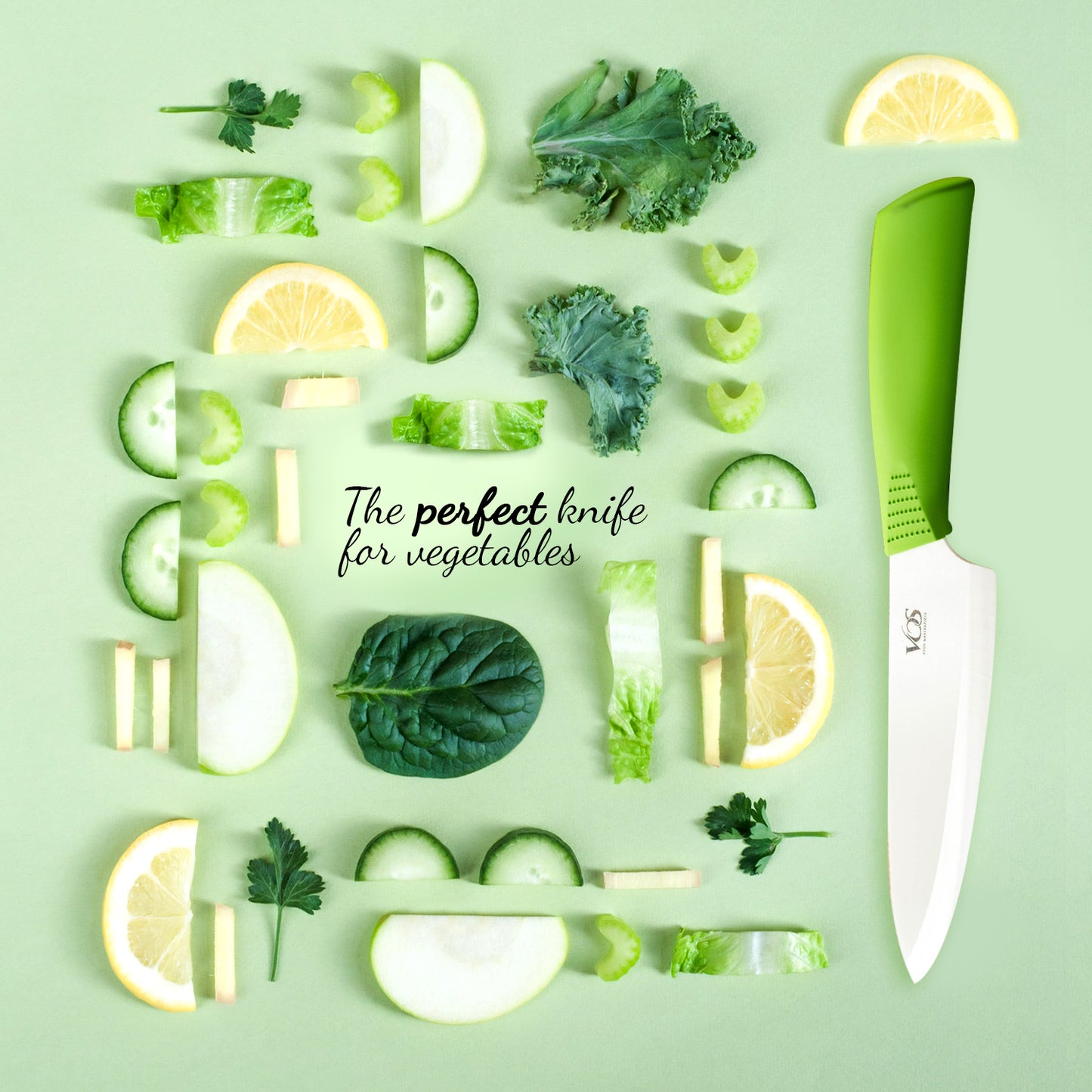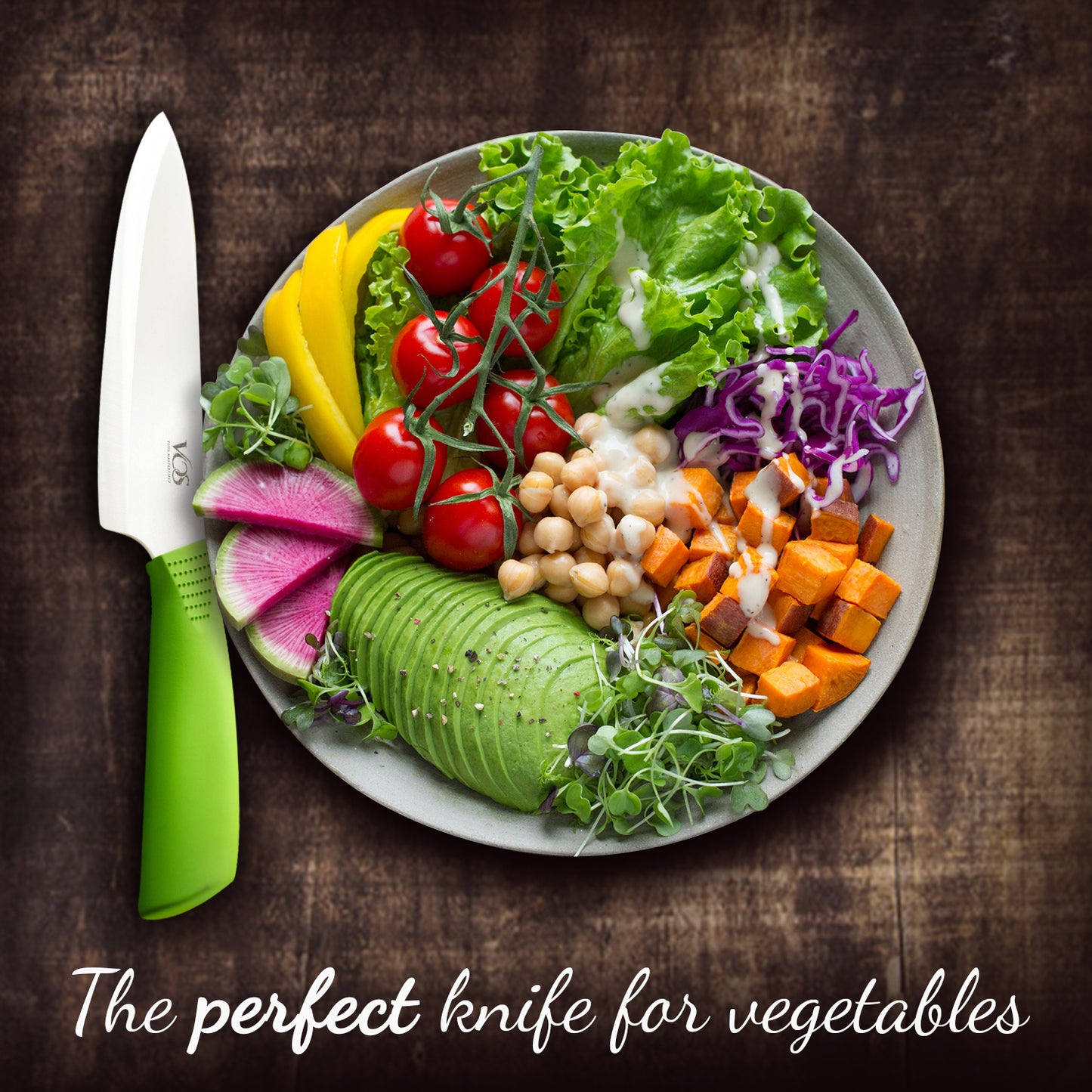 Great buy.,
Sharpness along with grip are great,
Great knife
I love ceramic knives. They are light but also sharp and easy to use. Plus, easy to clean!
Terrific knife!
Bought one for my wife and myself, loved it so much we bought another for her mother. Feels great to hold and use, and couldn't be sharper or better.
Five Stars
Good size for carving meat and Poultry
Collapsible content
SHIPPING

Shipping Options & Delivery Costs

All US orders will be shipped out via USPS First Class or similar, and the delivery time should take about 2-6 Days. 

Vos Ceramic Knives always offers FREE standard shipping on all orders - no minimums or exclusions!
TIPS

The Vos ceramic knives are dishwasher safe.

A word of caution: The ceramic blades are fragile and can easily chip or breakif you attempt to cut bone, frozen food or accidently drop the knife.
DETAILS

~ Excellence in performance

Our ultra-sharp blades provide superior functionality and greater precision for cutting fruit, chopping vegetables, and making sushi. Enjoy the skillful ease it provides for removing delicate skins or rinds, cutting thin strips for garnish, and other coring, slicing, trimming, and peeling activities.

~ Excellence in endurance

Our long-lasting ceramic blades sustain their original sharpness up to 15 times longer than their steel counterparts. Our high-quality craftsmanship helps ensure the longevity of our paring knives for versatile kitchen tasks.